Mesh Liner
X-Series liners are made out of a breathable mesh material that promotes air flow and breathability. The mesh liner and cells can be washed as an assembled unit in any commercial washing machine. Hot or cold settings may be used.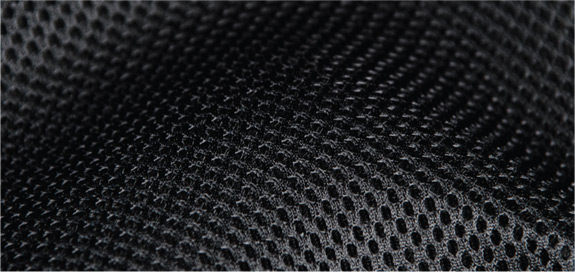 Coccygeal Insert
The X-Series line has a built in pelvic stabilizer that can quickly offload the high risk Coccygeal and I.T. regions. The insert is made from a high density foam and is comprised of two parts. The main section illustrated below supports under the thighs and Gluteal region. The center section resides under the weight bearing bony prominences. By removing the center section (as seen below), the patient receives instant relief by offloading the high risk areas and loading the Trochanters and Femurs. When utilizing this feature you can expect instant reductions in peak and average pressures.

Contoured Top Surface
The Versa X and Vector X come with varying heights between compartments that offer a pre-contoured shape, bringing superior pressure reduction results. These new geometric heights and shapes of the compartments maximize the user's surface area thus greatly reducing peak and average pressure readings.

Hourglass Bottom Profile
As pressure is applied to the Comfort Cells from the user sitting on the cushion, the force causes the cells to shift and settle into every nook and crevasse of the cushion liner. In the past, this action would cause the sidewalls to "balloon" out inversely, causing the cushion to increase in width. The new hourglass design takes into consideration the "ballooning" and acts as a restricting feature to control the Comfort Cells maintaining the exact size request put forth by the prescribing agent.